Rather than building an app which is a different product, we rebuilt our user interface to be optimized for use on any device.
While we do not have an app, we do optimize Churchteams for mobile use. The benefit for you is that there isn't anything to be updated regularly as we release upgrades to the software, yet you can easily use Churchteams from your smart device.
Save the link to Churchteams as an icon on your phone's home screen to make access to Churchteams easier. This makes it look like an app, but you won't have all the updates.
The link to your Churchteams site is located under Groups & Events > Settings, Basic, under the Access and Email Options section. Copy and email this link to yourself and open the link on your phone so that the Churchteams site is open on your phone or tablet.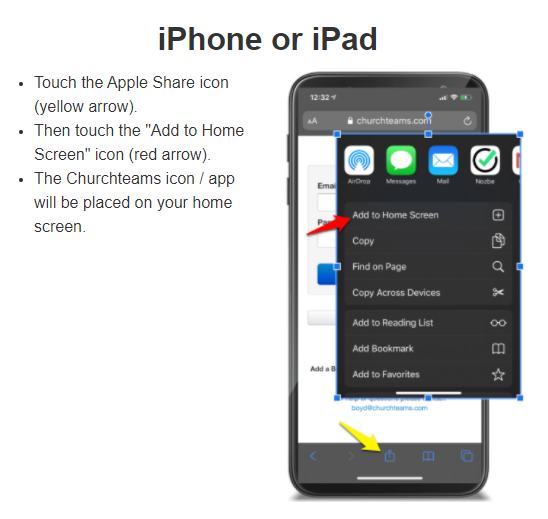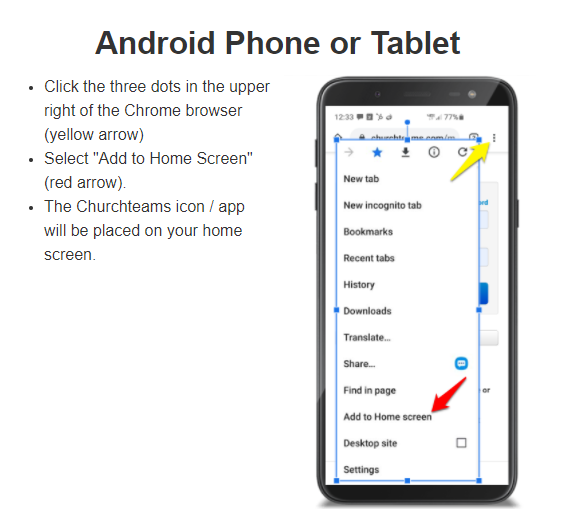 The recommended access for small group leaders is through Text-to-Church. By texting the word ME to your Text-to-Church number, leaders are able to view their groups, see follow-ups, and view their volunteer schedule.
Learn more about Text-to-Church here.
Comprehensive information about accessing and logging into Churchteams can be found here.