How do leaders gain access to their groups in Churchteams?
Group leaders can gain access to their group three different ways:
Text ME to your Text-to-Church number (if your church is using Text-to-Church) to see Groups in which they are Leaders or set to Complete Meeting Reports. This method will allow them to bypass the initial log-in screen and rely on their profile credentials as a group leader in the Software for access to their Group. No need for a password.
Access the Group by using a Leader Access Link directly to the Group. This link can either be from the Email Reminder (the email sent with the link to the attendance report). This link is a direct access to their group and can be used for viewing the group as well as taking attendance. The Group Link can also be emailed directly to the Group Leader by a staff member (or higher security access) going to the Group, clicking the blue Edit button, then Leader Access Links. From there, click the "Email update Group Information link to Leader(s)" button. Leaders can then save that link on their computer or smart device.
Leaders can all be sent the Churchteams log-in link. This link is found as a bookmark on the Settings > User Accounts page. Let them know to save this link as a bookmark or favorites page on their browser. Leaders will not enter an email and unique password, but rather click the Check-in/Leader button, then enter the leader level password found on the User Accounts page (Security > User Accounts) -- not the one on the accessibility page.

When the leader clicks to go to a group on the browse groups page (logged in as leader), he/she will enter the general group password (Settings > Accessibility). He/she can then customize a unique password that will replace this password just for their Group.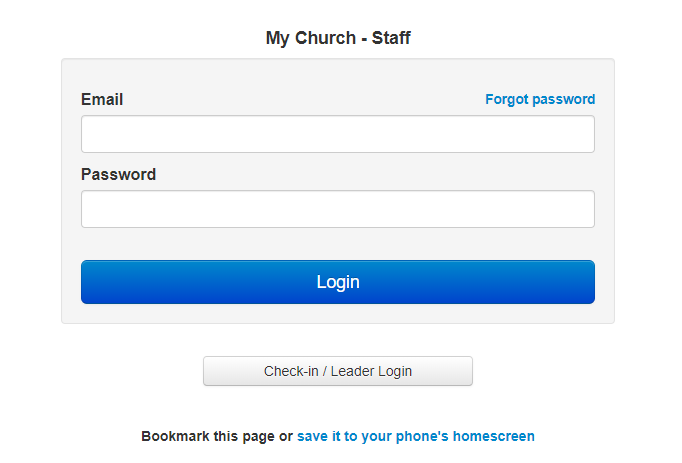 Our recommended best practice is for Leaders to access their Group through the Text-to-Me page or a direct Leader Access Link for their group (options 1 or 2). Option 3 can be utilized, but presents a need to change the general Leader level password often as Leaders come and go.