Use filters in the Reports feature to email parents of children in a group.
To email the parents of children in a group(s), go to Communicate > Email. The email is using the Churchteams Report feature, therefore you can filter to select the group that you want to email, then filter to the parents of the kids in that group.
Once on the Email page, in the middle Filter column, click: Groups > Group Involvement > People in a Group (see image below - 1). Then individually pick the group you want from the Groups dropdown menu or by Ministry from the Ministry dropdown menu (2).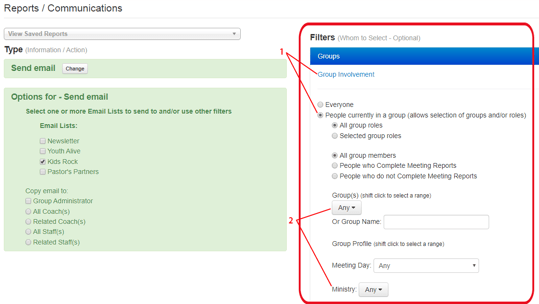 This action alone would email the children in the group. Instead, to email the parents of the children in the group, after you have selected the appropriate Group filters as mentioned above, click the Member filter heading then Family/Household Attributes > Select Related Family Members, and choose Adults. This will email the adults in the household of these children, so long as they have an email address on record. Finally, the email the kids/youth as well, make sure that you check "Include selected family member" at the bottom.
Run the report then choose Email via Churchteams to open the Email Editor.