Sending out Contribution or Giving Statements in Churchteams
We've created this written tutorial to assist you with Statements, as well as this 2020 Statements Briefing Video. The video is arranged in chapters so you can scroll to the various sections/topics.
In Churchteams contributions are input and tracked at the individual level. Our statements provide summaries for each individual (even a summary for each designation for each individual) and a total for the family. Statements work just as well for families filing separately as jointly.
Generating Contribution Statements involves 3 steps:
SETTING DEFAULTS FOR STATEMENTS
PRODUCING PRINTED OR EMAILED STATEMENTS
PREP/NOTIFICATION EMAIL TO UPDATE RECORDS
As you begin to prepare for annual contribution statements to be sent out, we recommend that you first send an email out to any person in your database who gave any amount in the statement period (generally the prior year). This email notifies the contributor that you will soon be sending the statements and want to ensure that your records are updated.
Note that if you have the directory enabled that people that receive this email will be able to view it. If you don't want that feature go to Settings, Accessibility, and uncheck "Enable access to the directory" on the bottom left of the page.
To do this, go to Communicate > Email > Send. In the Filters column, click the blue Contributions filter bar. Enter an amount range of $0.01 to $10,000,000 (or more if you had someone give a total annual amount above $10M) and the date range for which you want your statement to cover, under Total Contribution amount.
Click Run Report and opt to send the Email via Churchteams to begin your email.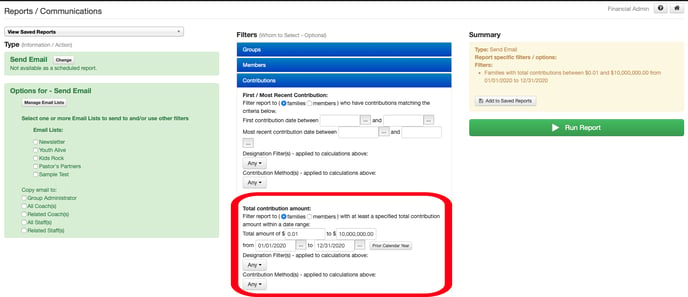 To include the member update link in the email, insert a text box. In the text box editor, click the Merge Tags button and choose "Member Update Link."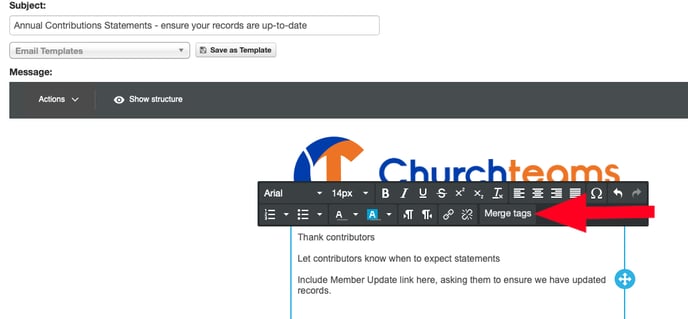 Once you have sent out your emails, use Email History to check for any emails that may not have been rejected as spam or bounced back. What does it mean that our email bounced or was rejected? Having updated records will help to ensure that all statements are received.
SETTING DEFAULTS FOR STATEMENTS
To set up statement default settings, go to Giving > Settings > Other Options > Statement Options.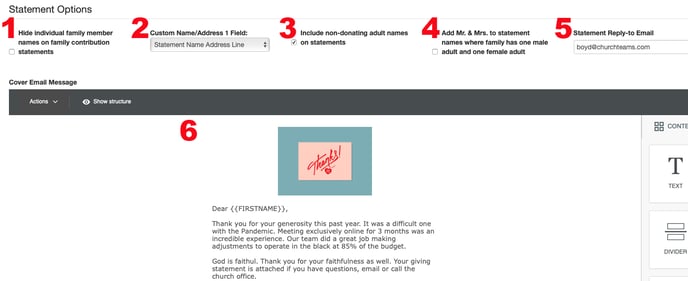 1. Check this box to simply show all contributions for all members of the household, listed by fund/designation, in date order. If you choose to leave the box unchecked, contributions will still be listed in date order, by fund, but they will be sorted by each donor in the household according to who gave the contribution.
2. Use this dropdown menu to show a custom member attribute as you address the household. (Ex: Dr. & Mrs. Jones) The dropdown menu here is populated with any custom member attribute that is a text field in your database. You can create a custom member attribute (Members > Settings > Member Attributes) called "Statement Name Address Line" and populate this field for a member when/if they notify you of a specific way they wish to be addressed.
3. Check this box if you would like to include name of adults in the household who did not contribute during the giving period, such as a college student.
4. Check this box to have all statements where a family has one male adult and one female adult be addressed as Mr. & Mrs. Statements will otherwise just list the names without a prefix.
5. Enter the name of the staff member who should receive replies (possibly questions) from emailed statements.
6. This is the default email cover that will be sent along with your statements.
Be sure to hit Save on this page in order to save all of your default settings.
PRODUCING EMAILED OR PRINTED STATEMENTS
Whether you are emailing or printing/mailing statements, go to Reports > Financial > Contribution Statements.
Emailed statements are sent to individuals who gives within the specified amount and date ranges and have an email address in the system. Printed statements will be produced for any contributor who gives within the specified amount and date ranges.
If you do not want children with email addresses on their member profile to receive the family statements, filter them out using the following filters to choose only adults:
Members > Custom Family/Household Attributes >Selected Family Roles
Options must be chosen in column on the left side of the page, regardless of choosing to email or print statements: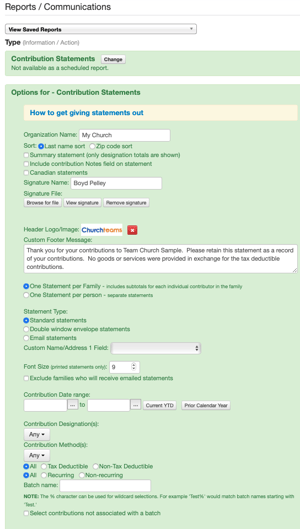 Enter your Church Name
Choose your Sort Order - Zip Code or Last Name
Check/Uncheck boxes to produce Summary Statements only (total for fund, rather than detailed transactions)
Check/Uncheck box to include Notes
Check/Uncheck box to opt for Canadian Statements. To meet Canadian requirements, there is an option to "Include unique contribution ID" and the ability to customize the footer message.
Opt to include or remove a signature (from a .png file on your computer)

To add a logo: For emailed statements you need a logo that is about 3.5 times as wide as it is tall and it will be squeezed and auto sized into the upper left. For example, a 400 pixel wide image that is 115 pixels high.

For printed statements it can vary depending on what you want it to look like as larger ones will take up more space but any size will work. Using Print Preview on a statement or two is probably the best to see it without wasting paper.

Choose Family or Individual Statements
Choose between Standard Statments (for envelopes on which you will add a mailing label), Double Window Envelope Statements (you can edit the alignment to fit your window envelopes), or Emailed Statements. (Which opens up a window showing the email you created in the Default Settings for Statements, found under Giving > Settings > Other Options.)
Choose a date range or click "Prior Calendar Year."
Leave Contribution Designations and Contribution Methods set to "Any" unless you only want certain funds or methods to show on the statements.
Choose Filters for your statements in the middle column of the Report page.
Run Report.
When you click "Run Report" for Emailed Statements, the .pdf statements are attached to the email and sent automatically. We recommend that you send a statement to yourself using the Members filter first so that you may preview the email and statement.
Filters
Choose to filter to "People with NO email address" (Members filter bar >Fixed Attributes) if you are running both emailed and printed statements when you are ready to run the printed statements. If you are only printing statements, don't add this choice.
Filter to just one person or family by clicking the Members filter bar, then "Select Specific People" and enter the name(s). Be sure to enter the name of all contributing adults in the household if contributions were made in their names.
You can add any other filters you need. The "Total Contribution amount" filter gives you the option to filter by cumulative amount given for a family or an individual.
A FINAL NOTE: Running statements can take several minutes, depending on the size of your database. Be sure to do this task when you will be able to refrain from running any other Churchteams tasks. Allow several minutes for the data to load. If the application times out, please do not Run again. Call or email Churchteams Support. 405-817-9750 or support@churchteams.com.