Logged in at the Financial Admin level, you can refund a contribution or cancel a recurring transaction in Churchteams.
Refund a donation made by credit/debit card or ACH:
Logged in at the Financial Admin security level, search for the donor's name either by using the search bar in the top left or the search bar in the center of the dashboard. Once on the member profile page, click More info > Contributions.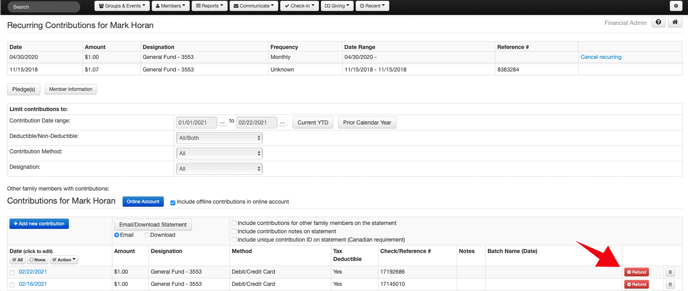 Click the red "Refund" button to the far right for the contribution you would like to refund at the bottom of the page in the Contributions section. If the contribution has already cleared the contributor's bank, there will be a record of that amount coming out of your account in that person's contribution history and in the financial reports, such as the Online Reconciliation report.
Refunding a donation made by Text-to-Give:
If the donation was given via Text-to-Give, the person can text the word "refund" and it will refund the last transaction.
Note about all contribution refunds:
The donor will receive a receipt/email notification of the refund. If the transaction has not cleared/posted at the bank then it will be completely deleted from Churchteams. If it has posted and the money was transferred then the system will not delete the original contribution but instead create a negative contribution of the equivalent amount on the day of the refund. That way there is a clear history of what happened with the contribution.
Cancelling a recurring transaction
On the same page, go to the recurring contributions section at the top of the page and click "cancel recurring" to the right of it. If a person wishes to edit a recurring transaction, they instead can cancel the existing setup, and create a new recurring transaction.
Refunds of registration payments are handled from the group page where the event/class is managed, since registration payments are not kept on the contribution page.