One person can check everyone in to everything and then get access to a digital bulletin or any other link
The idea behind All Check is to provide a single keyword for one person in the family to check everyone into everything, print security labels if needed and then take them to their digital bulletin (or any other link).
It also provides a way for guests to register and then check-in, get security labels and a digital bulletin. Here's the idea: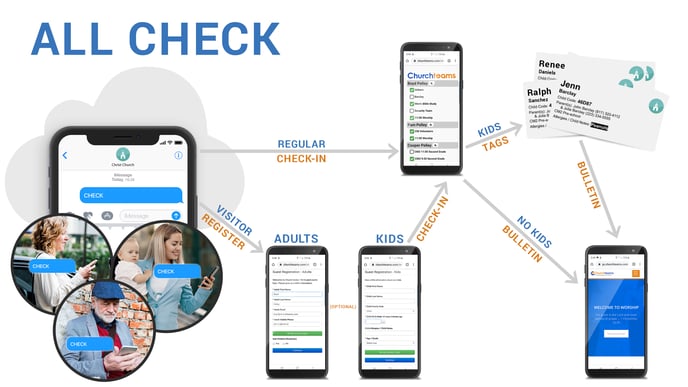 Here's how to create it:
Create a registration group for Adults (or use your current first time guest group) and customize the registration settings to capture the information you want. I call it the "Guest Registration - Adults" group.
Create a new group for "Guest Registration - Kids". In Registration Settings, customize the Settings including instructions and the information you want on the kids form.
Note: You can use Age / Grade setting as a Registration Attribute (button on the Registration Settings page). When you create that Registration Attribute, use the Auto-complete option to Auto-Register or enroll kids into their appropriate class.
Go to the adult group you created in #1 above and use the Registration Completion option to connect to Guest Registration - Kids.

Click on Check-in > Views / Setup. The settings changes are in section D.
Switch from the Legacy / Classic option to the Registration Based option.
Next pick the adult group (step 1) in the D8 drop down. Here's a summary of steps 3 and 4:
Create your digital bulletin as a page you update weekly on your website. You can also use just a link to your update website, a blog, or to your service live stream. (Writing this during the Covid 19 crisis.)
Whatever link you choose, enter its URL in the Check-in view E6. This will land the registrant on the page you want after they check-in.
Get the word out. Give people your Text-to-Church phone number and tell them to simply text CHECK to use All Check.