Initializing Text-to-Check-In in Churchteams after the Check-In View has been set up
In order to use Text-to-Check-In, you must have a Text-to-Church account and already have a Check-In view set up (or use the default Sunday Morning view). To set up a Check-In View, check out this tutorial.
Once your Check-In View is set up, log in to Churchteams on a PC or Mac browser (not a tablet). Go to Check-in >Start Check-in.
Select the desired Check-In View you created.
Under Label Printing Options, select "Start a Printer station - Share printer with other devices

" and enter a printer name. The printer name can be generic (e.g. XYZ) if you will not actually be printing any labels. If you are printing labels, we recommend naming the printer according to its location.

Check the box labeled "

Use for Text to Check-in

."

Click OK.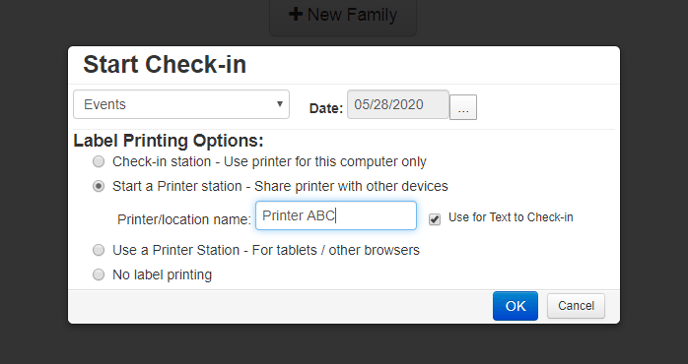 On the next page, you will see an animated "waiting for labels to print." Check-in is not ready to go, and people can text the word CHECK or CHECKIN to your 10-digit number. They will get back a link that will take them to a page where they can check in their family.
An alternative to physically starting a check-in station for Text-to-Check-In, especially if you will not actually be printing the labels, is to set up an automatic check-in schedule.