Get your Text-to-Church phone number and then text the word ME to see everything about "you" in the database
What is Text-to-Church?
If you're a client and have a Text-to-Church number set up already, just text the word ME. This is the best way for you to see the feature in action - it is already set up.
If you're a client and need texting service through Churchteams, from your Churchteams Dashboard, click "Find a phone number".
What's ME? No need to overthink this! ME is simply our keyword for a person to text the database in order to:
Login (coach level and higher)
See/edit my Follow Up assignments
See my Volunteer schedule
View my church directory (if enabled)
Go to important church links (e.g. website or podcast, you choose)
Access groups I lead
Update my information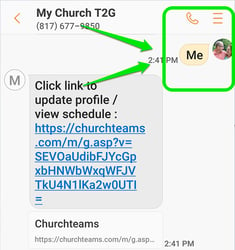 How to use it:
After texting the Keyword ME, click the returned text link (see image above) to get to this page. Notice the login link button (blue), the Follow Up section (red is completed, green is outstanding assignments), and the Volunteer section (green is accepted invitations, red is declined invitations).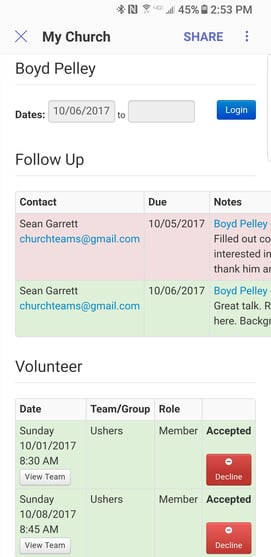 Scroll down. Notice the Church Directory and other user-defined links (dark blue), Groups that I lead (green), and Update My Information (light blue).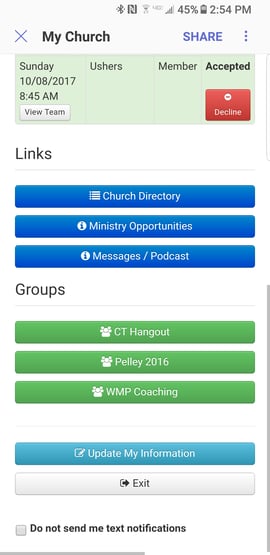 Early on in Churchteams' history, we introduced push-out emails to group leaders. These have proven to be the very best way to get responses from group leader volunteers. We believe these texting options will be just as significant in giving people unprecedented access to your church database. The key principle, we learned over a decade ago, is to go where people already are. With Text-to-Me, you won't need to ask them to download or log in to something. Perhaps 20-40% of your people will do this, but there's a better way to get the rest to engage than constantly marketing a product to them.