Build healthy relationships using these communication channels: email, text, workflows, website integration, labels and mail merge.
OPTIONS ARE EVERYWHERE
The key to building relationships is communication. Similarly, in a relational database, communication is key and thus opportunities to communicate are found everywhere. Check out the arrows on these four pages for examples: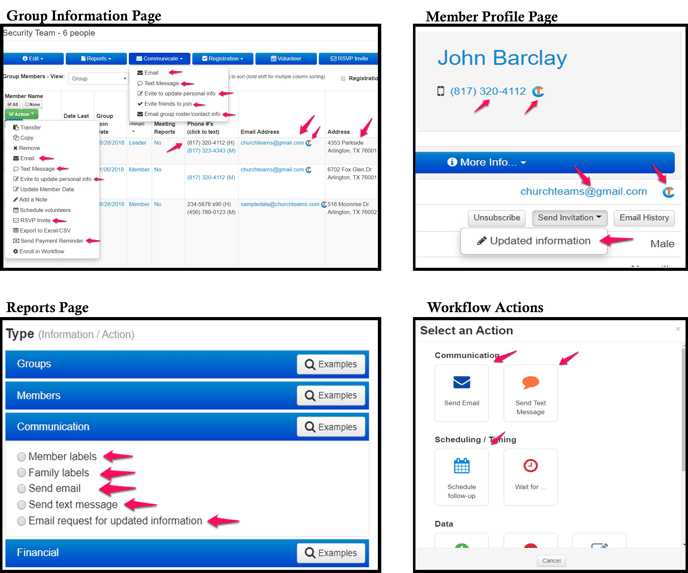 Communication is an action you can take from several pages throughout the database, but to elevate its presence, we chose to add it to both the Navigation bar and the Create card. This makes it easier for you to quickly see your Communication options and then choose recipients.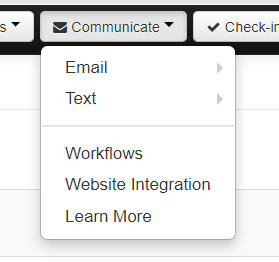 Email. Options include: Send, Lists, Templates, History, Scheduled. These were built to provide the same essential functionality that you would find in dedicated email marketing software. Check out these detailed instructions on how to create and send an email.
In many instances you will find that sending an email (or a text) takes you to the reports feature. This empowers you to target your audience based on simple lists they can subscribe to or on any other group, member or giving attribute. There are thousands of options.
Text. Like email, our text feature allows you to create templates and schedule when you want to send them.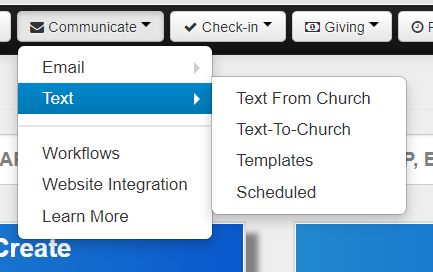 Text From Church. Our free and unlimited way to send mass texts via email. The system automatically looks up mobile carriers when mobile numbers are entered. Texts are sent via email using the domain of the carrier, e.g. 8174059750@att.net. The recipient receives these as coming from noreplytxt@churchteams.com if sent through the system or the email address of the sender if sent through their personal email.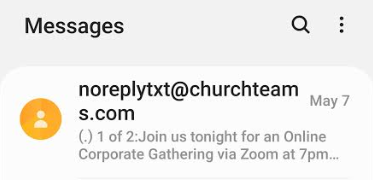 Text-to-Church. The easiest way for people to take the initiative to give, register, check-in, and much more simply by texting a keyword to your office phone number. Read more.
Workflows help you automate routine administrative tasks including sending emails and texts. Read more.
Website integration. The call to action for many communication events is a registration for a class, event, need, etc. For individual classes or events, you will find the link by going to the group page, then Registration > Settings. The website integration page however, gives you many more options including:
Staff login - the Churchteams link to send out to other staff members and/or account users
Groupfinder tool - the link for publishing your Groups visible at the Guest level
Link Builder - build a custom link based on group filters
Groups Map - the link for publishing a map of your groups
Member Directory - the link to your Member Directory
As mentioned, many of the email and text links are shortcuts selecting the Send email or Send text message reports. But there are 3 other options in this area (see image below).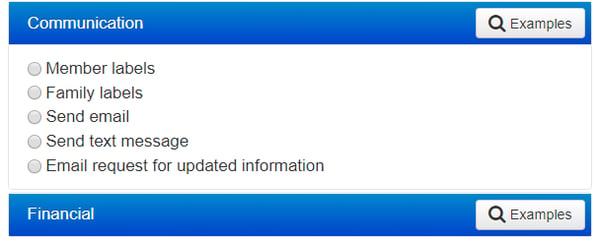 Labels. The labels report allows you to print mailing labels for either individuals or families. When you select one of these options you will be prompted to choose other options to target the people for whom you want labels. Learn more about creating mailing labels here.
Mail Merge. Exporting member data for use in a mail merge in a word processing program is common if you want to edit some of the data before printing your mailing labels. Detailed instructions for creating the export file can be found here.
Email request for update information. Use this email with a merge tag to send an email with a link in it that will take members to update their member profile. Read More.
ADDITIONAL RESOURCES
An Introduction to Email and Email Marketing
Membership Webinar Video - See chapter list bottom right