Understanding reports types and filters. Use and access Saved Reports and Dashboard Cards.
The whole purpose of collecting information is so that you can get feedback on the effectiveness of your ministry structure and strategy. Reports put this information together for you.
QUICK LINKS
Start your thinking about reports by breaking your desired outcome into two parts: Types and Filters. These are usually so interrelated that initially it might take some intentional thought to separate what we want from who we want it on. But, learning this discipline will multiply the possibilities of your use of reports. Here's an explanation of each of these parts.
Types - What information do you want or what action do you want to take?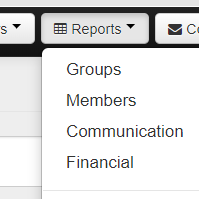 As you see in the navigation menu, there are 4 types of reports if you have financial access. The other levels just have 3.
Each one of these types has a series of options that fall underneath it.
Groups include rosters, attendance, and missing persons.
Members include lists, family directory, and maps.
Communication includes labels, email & text.
Finacial include charts, statements & registrations.
To learn more about each of the report types, click on the Examples link in the header bar of each major category. Don't be hesitant to try a report option either.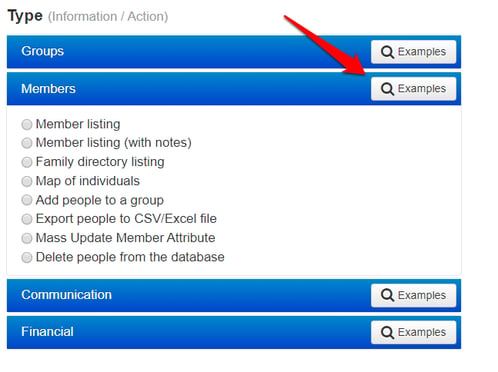 When a report type is selected, the next screen will open up logical options related to the choice. For example, Member listing is a common report. On the next screen, you can choose what information you want to see on the people you are about to choose.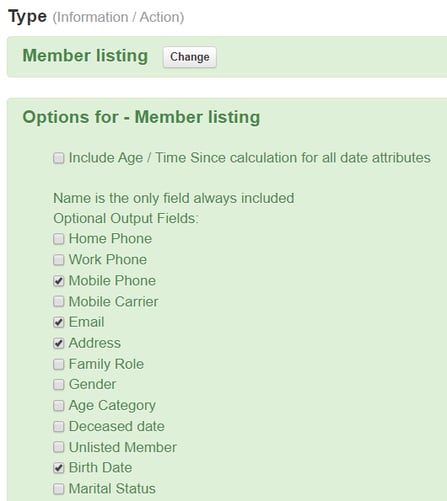 Filters - On whom do you want this information or action?
In addition to the green column with report output options opening up when a report type is chosen, a new center column for filters opens up. (Scroll to see it on mobile.)

Filters let you choose the people you want to include in the report you have chosen. These include:
Groups - Ex. People in groups, not in groups, attended during a date range, did not attend during a date range and more.
Members - Ex. Church member types, fixed attributes (like gender, last activity date, zip code), custom attributes (like birthdate, attended new member class, ministry interests) and more.
Contributions - Ex. Families that gave for the first time in a date range, stopped giving, gave 3 or more times in a date range and more.
Summary/ Run
Combine different filters to pinpoint people more specifically. As you do, a Summary of choices is presented in the yellow summary box. This example emails (Type) parents (Filters) by choosing Children's ministry in the groups section and Related Adults in the Members > Household Attributes section.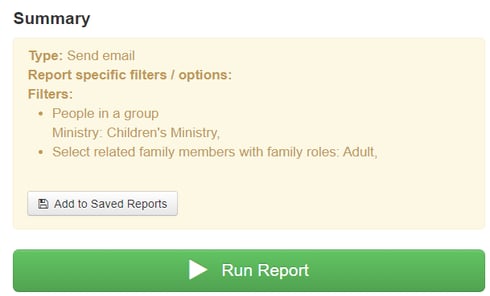 Click the green button to Run the report. Depending on your report type, the system will either run the report for you (ex. attendance) or prompt you with other choices (ex. email from your email or through Churchteams).
Saved Reports
In the yellow summary box above, notice the option to Add to Saved Reports, a similar option is available in many cases after you run a report.
Some reports give you an option to save the report as a .pdf after it is run. You can also save reports as a web page (html). Both of these are saved and accessed on your local machine.
When you click the option to Save a Report, it will be saved in the application itself for future use. You will be prompted to give it a name, security level and depending on the report a dynamic date range option.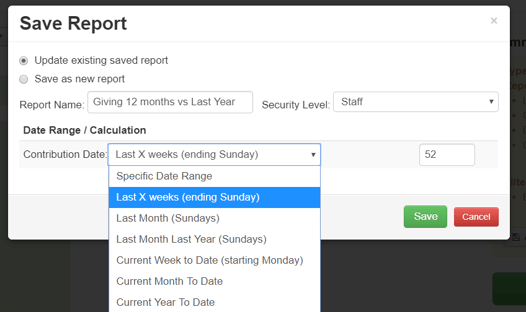 Note: Reports that can only be built by Financial Admin.s can be saved at a lower security level for access by other staff. Example above.
All Saved Reports can be accessed at the very top of the Reports page.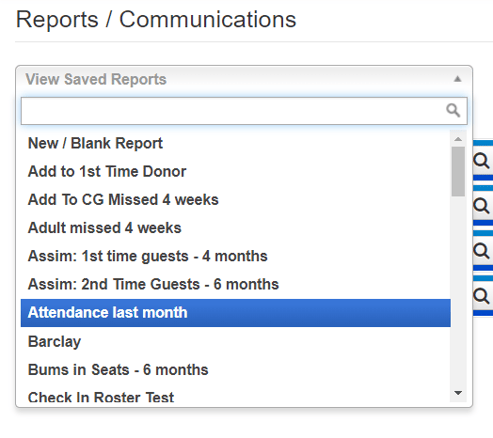 Once selected, use the lock icon to change security access for reports and the red x to delete saved reports.

Me & Metric Cards
Make the Saved Reports you access most often available as soon as you login to the Dashboard page of Churchteams. Select the gear icon on the Me card and from the Saved Report dropdown choose to add these reports to your Me Card.
Groups and Financial Types have options to create and save charts. Any saved chart can be added to the Metrics card by clicking the gear icon in the same way.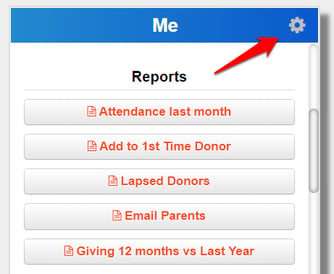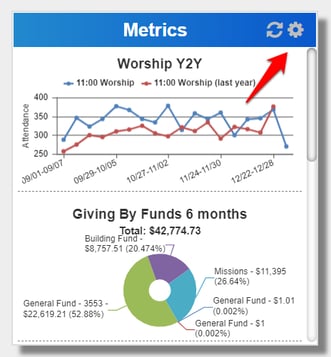 Together, these tools make the power of reports and the feedback staff and pastors need available as soon as they login to the software!
VIDEO RESOURCES
Member Webinar - See chapter list, bottom right corner.