Using the keyword CHECK, a parent can text your Text-to-Church number to check in the whole family
Parents will use the same 10-digit text number you already use for text-to-give, text-to-register, and text-to-attend. (See Settings / Contributions / Online Giving to set up a Text-to-Church account.)
Keyword(s) for Text-to-Check In are hard-coded into the system and not customizable. Just give your parents the keyword CHECK. That is literally all they need. CHECK-IN and CHECKIN will work as well. Like our other keywords, upper/lower case doesn't matter.
Printer Station Requirement.
For the keyword to work, you need to start a check-in session so that at least one printer station is active - even if you do not plan to use printed security labels. (If you are unsure about the difference between a check-in station and a printer station, join Churchteams staff for the
check-in virtual class
conducted every other week or email us for a video link.) If no printer stations are active they will get the following message.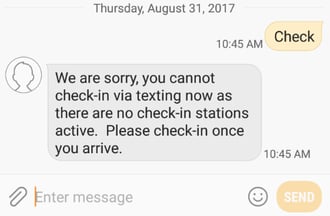 If you do not need to print labels, for instance, taking attendance for a youth group, Text-to-Attend not Text-to-check-in is the best, most streamlined way to go.
When parents text CHECK, with at least one printer station active, they will get back a link: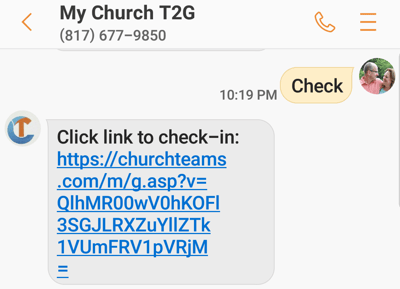 After clicking the link, choose which label printer to use if you have more than one printer station is active. (Be sure to name printer stations so that they are easily recognizable, such as Building or Room #.) If there is only one printer station it will be used automatically without a prompt.
First time use for regular attenders. If a person has already used Text-to-Give or Text-to-Register they will be in the system and they will be taken to their family page for check-in. If not, the software uses their phone number to find them in the database and prompts them to confirm their identity.
Family Check-in page. Once regular attenders click the link to check-in, they will be taken to their family check-in page. Check the box for the class each person is checking into and click the green Check-in button. A pop-up box will appear confirming that check-in complete and the attender can click close to complete the process. A Parent Security code will be texted back if Family Labels (Option C1 in Check-in > Views / Settings) is enabled.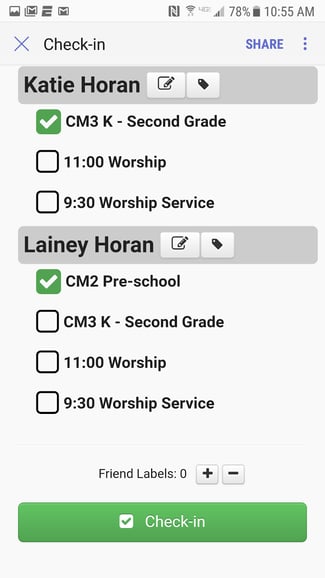 First time guests not in the database. You could set up a group for guests to pre-register for childcare from your website, similar to creating a Digital Connection Card. This would put them in the database so they could then use text-to-check-in. However, our recommendation is that you use text-to-check-in to serve your regular attenders. Invite your guests to be greeted at a check-in desk once they arrive. There are obvious hospitality advantages to this.
Another option is using All-Check. All Check works very much like Text-to-Check in, but with the added benefit of an attached guest registration form when the attender is not already in the database. Using All-Check allows everyone - guests and regular attenders to check in using the keyword CHECK and only requires a few tweaks.