Member Notes are useful for assigning and tracking leadership follow up directly on a Member's Profile page
Creating a Member Note can alert a leader or staff member to contact a member and then track follow-up, or to post a simple note or alert on the Member page for Staff to see when viewing the Profile.
To create a Note, go to the Member's Profile page and click

.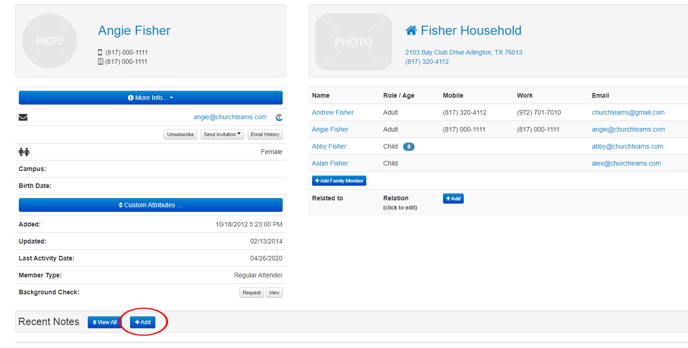 Below, is the Member Note, with information about how to use each field:

Date: Date you are creating the Note. Some choose to back date this to the date of the occurrence of the situation for which the Note is being made, such as the Sunday that a Connection Card or Prayer Request was turned in.
Created By: This is typically you and is used as a means of identifying who logged the Note.
Type: Use the drop down menu to select the Note Type, such as Outreach, Prayer Request, Pastoral, etc. *You can create additional Note Types by going to Members > Settings> Note Types. On that page, you can also edit existing Note types. To password protect a Note Type, click the Note Type, then enter a Password.
Due By: This field gives a due date to the person who will doing the Follow-Up on the Note. This can be left blank if there is no follow up needed, otherwise assign a due date which will be used to send a reminder to the Follow-Up contact before the Note follow up is due.
Assign Follow Up To: This field is used to assign the Note information to another leader or staff member so that they may follow up with the Member. This person will receive an email, containing all of the information in the Note as posted, as well as a link directly back to the Note.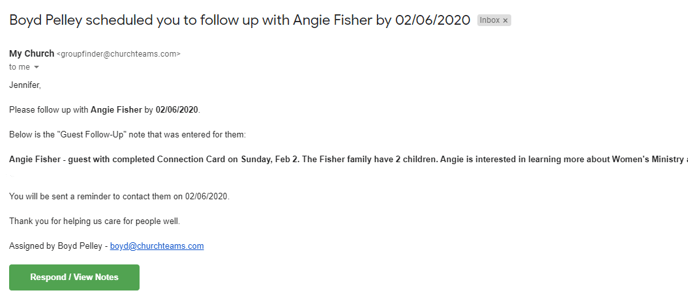 By clicking the green Respond/View Notes button, the Follow Up Contact will be taken directly to the Notes page for the Member and able to create their own Note regarding any Follow Up actions or contact made. This tracks outreach or prayer needs, etc. and the follow up results right there on the Member's page.
As far as the reminders clearing after you complete them, on the ME card If there is no Follow Up Date entered it stays on for 7 days after the Contact Date. If they have a Follow Up date entered it stays visible for one day after the follow up date. So it would go away 2 days after the date. On the Member page which is the the Text-to-ME page and also in the application it defaults to showing the last 7 days.
A report can be run to show Members with Notes. Go to Reports > Members, choose Member Listing (with Notes). On the Report page, you can specify a date range as well as Note Types for the Report.