What do Members see on the Member Activity Page and when they are invited to a Volunteer Schedule?
A Summary of the Member Activity Page - accessed by texting ME to your Text-To-Church number, being invited to Volunteer Schedule, using the emailed Member Update link, or logging into the Online Account
The Member Activity Page allows members to:
A: Add Blockout Dates for Volunteer Scheduling purposes
B: View Volunteer Team/Subs (See Setting Substitute Preferences)
C: Accept All Volunteer Invitations
D: Accept or Decline Volunteer shifts individually
This page also includes, depending on settings and group roles, a Directory link, links to Groups in which the person is a Leader, and the ability to opt-out of Volunteer Reminder Texts.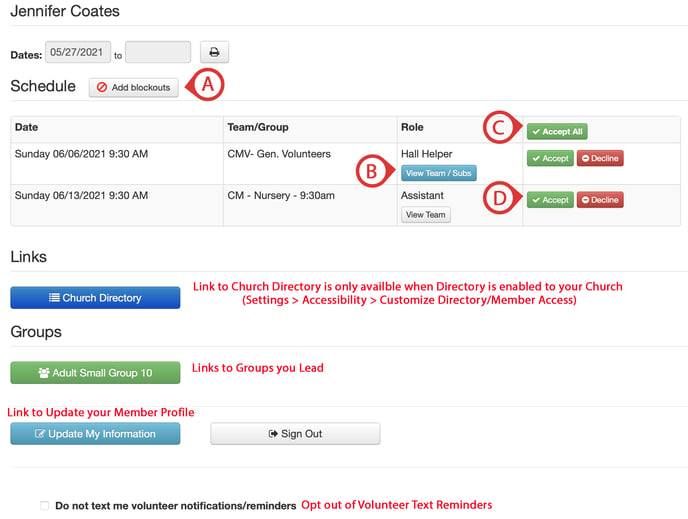 Here is a look at a sample email showing a member invited to respond to two shifts in Children's Ministry and the link at the bottom of that email, which takes the Member to the Activity Page.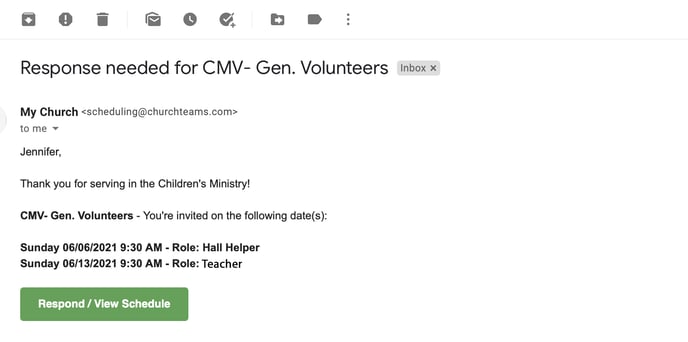 Volunteers can also respond to the Volunteer Schedule invitation via text. The sent text contains a link to the Member Activity Page which is mobile responsive as well.